Date: August 2023 
Client: Leading Canadian Steel Manufacturer
Location: Canada
Client challenge
A leading Canadian steel manufacturer was faced with a critical challenge where they needed to demonstrate their ability to efficiently serve a variety of industries while also addressing two main concerns—timeframe and hot working. Specifically, the client had a pressing issue with faulty pipework that required immediate attention. They required a reliable solution that could not only meet their stringent timeframe requirements but also eliminate the need for hot working, and minimise safety risks and costs.
What we did
In response to our client's challenge, we provided a comprehensive and efficient solution to showcase our capabilities and expertise with the following:
Quickflange tool deployment: To minimize lead times and shipping costs, we utilized our hub in Houston to deploy our specialized 3" STD Quickflange tool. This tool was essential for creating gas-tight connections without the need for hot working.
Custom spool fabrication: Working closely with our client, we designed and fabricated a bespoke spool to replace the faulty pipework. This spool was engineered to seamlessly integrate with the existing pipeline infrastructure.
Onsite expertise: We ensured that trained personnel were available onsite to oversee the installation process, guaranteeing that the replacement spool and Quickflanges were securely and efficiently connected.
Gas tight connection: Following the installation, we utilized our 3" STD Quickflanges to create a gas-tight connection, ensuring the integrity of the entire pipeline system. Our Quickflanges not only eliminated the need for hot working but also offered a reliable and efficient solution.
Results
We delivered a timely resolution by leveraging our global footprint and deploying resources from the Americas hub, meeting the client's stringent timeframe requirements and minimizing downtime, ultimately saving them valuable time and money. Furthermore, our Quickflange solution eliminated the need for hot working, enhancing safety and reducing associated costs. The successful activation of the Quickflange tooling and the seamless integration of a bespoke spool was effective and underscored our ability to provide trusted solutions across diverse industries.
This project also served as a showcase of our extensive global footprint, demonstrating our commitment to offering reliable solutions worldwide while serving Canada efficiently from the Americas hub.
Our Quickflange solution not only addressed our client's immediate challenges, but also demonstrated our capability to serve diverse industries efficiently. This case serves as a strong example of our commitment to providing innovative solutions while minimizing lead times and costs, ultimately ensuring client satisfaction and industry trust.
Date: July 2023
Client: Drilling Contractor
Location: UK North Sea
Client challenge
A North Sea drilling contractor faced a challenge with rerouting a pipeline system for their drilling package on an offshore rig. They needed a solution that was not only safer but also more cost-effective and time-saving than traditional hot work methods.
What we did
To meet our client's needs, we obtained approval for a 10" carbon steel 150# Quickflange™ connector, which was ideal for horizontal installation on the asset's lower deck. Despite facing initial discrepancies with the wall thickness from the listed piping specifications, we included extra match boring equipment in the quotation along with installation tools, testing, and cutting equipment.
We used orbital cutting equipment to cut the pipe and manually prepared the installation area. Wall thickness checks revealed the need for match boring to align the pipe's wall thickness schedule with the supplied Quickflange™ connector. After completing the match boring, the installation proceeded successfully, passing a hydrostatic leak test.
Results
Our solution resulted in highly positive outcomes for our client. The installation process was significantly faster compared to traditional hot work methods, and the Quickflange™ option provided a simpler, more straightforward installation which was also more cost effective, without the need for permits and habitats. Our technician, proficient in Quickflange™ installation, pipe cutting, and match boring, proved invaluable as only one technician was required, saving space on the client's onboard asset. Overall, the successful project demonstrated the advantages of our approach in terms of efficiency, safety, and cost-effectiveness.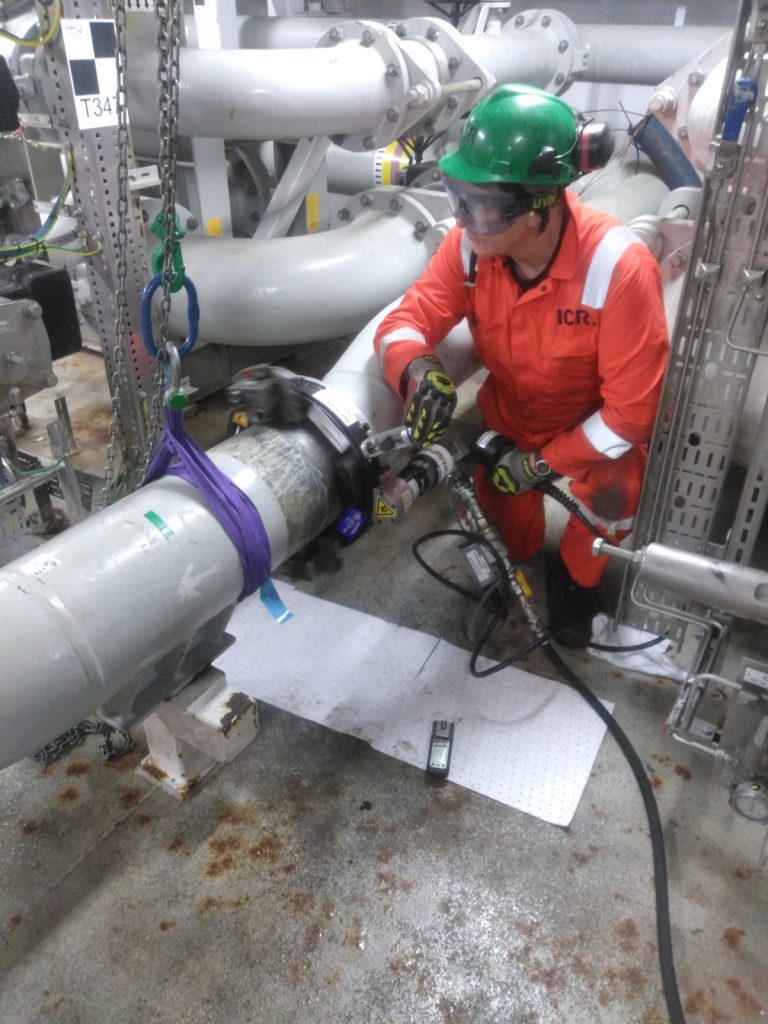 | Date | Client | Location |
| --- | --- | --- |
| October 2020 | Major North Sea Operator | Central North Sea |
Scope
Quickflange™ technology was identified to repair a leaking 4" Sch80 carbon steel nozzle feeding from a diesel tank. Hot work was not an option due to both time constraints and the extreme space restrictions with the nozzle being located in a void which was too small for a welding habitat. 
Solution
ICR's standard installation equipment was mobilised, which was able to contend with the tight clearance, limited rigging options and space restrictions – having only limited clearance to the nearest I-beam obstruction. The technician mobilised was 'confined space entry' trained in order to complete the install in a safe manner. All items were mobilised within 48hours, minimising the client's downtime. The Quickflange™ joint was also tested post installation, to ensure the integrity of the connection and that it conformed to industry and client standard.
Results & Benefits
No hot work
Extreme space restrictions were met with no issues, something no other competitor could match 
Equipment mobilised 48hours from initial request 
Reduced cost due to minimal downtime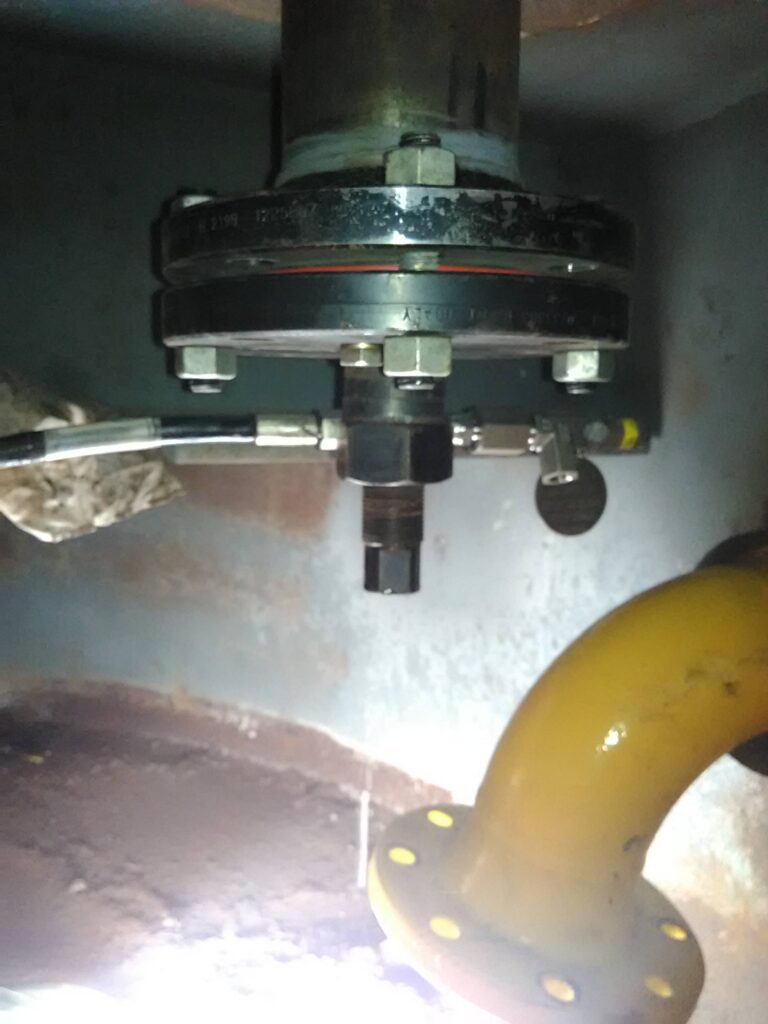 | Client | Location |
| --- | --- |
| Major North Sea Operator | UKCS |
Scope
A major North Sea Operator was required to complete a dump cooler modification scope with a 10" Cunifer seawater line during a quick turnaround shutdown scope for a Floating Storage and Offloading vessel. Pipe removal and replacement with the use of 10" 5.5mm FF Cunifer flange connections was necessary for replacement of this cooling water repair scope. Quickflange™ was the preferred choice as a cold-work application.
Solution
A Quickflange™ solution was delivered which had undergone leak testing, mechanical testing and burst testing to meet the required criteria for DNV Type Approval Certification. Due to time criticality and personnel limitations on board, two multi-skilled ICR technicians were mobilised to complete this scope on back-to-back day and night shifts. The highly competent technicians held the following certification: Clamshell Cutting, Advanced Quickflange™ Installations, Flange Joint Testing and MJI10 Bolting & Torquing. The technicians completed:
Prepping the pipe and performing two straight cuts with clamshell cutting equipment
Installation of 2 x 10" 5.5mm CuNi 90/10 16/20 Quickflange™ Connectors
Flange strength testing of both connections utilising flange joint testers and ancillaries
Bolting and torqueing of spools to tie-in the new pipework
During the first of the Quickflange™ installations, the pipe was found to be oval once the cut had been performed with the clamshell cutter. This scenario can occur where the pipe 'springs' once the cut has been made due to tension in the pipework. The technicians used tried and tested techniques to bring the pipe to within the required outer diameter tolerances allowing the Quickflange™ to be installed. The technicians also remained to assist the shutdown team with other modification work on the asset ensuring the full scope of work planned for the shutdown was completed on time and to the highest of standards.
Results & Benefits
Work successfully completed over a 3-day period; technicians on 6 back-to-back shifts cut, installed and tested the Quickflanges™
Long-term safety of system improved by permanent repair
Safety, time, production and cost savings compared to conventional welding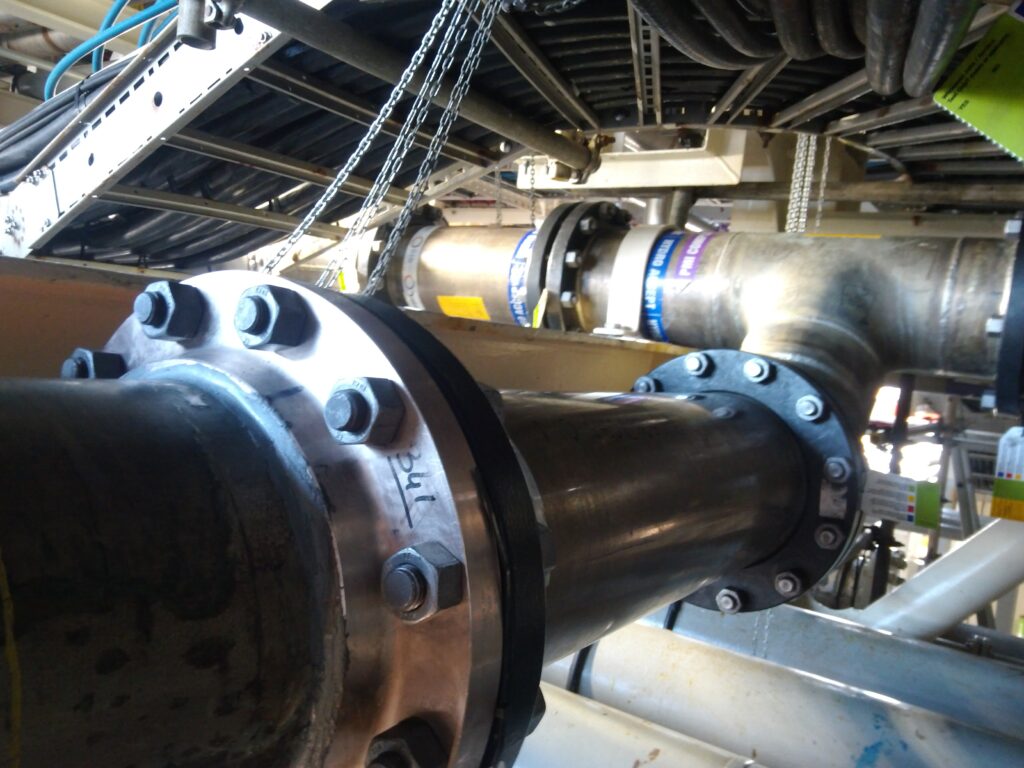 | Date | Client | Location |
| --- | --- | --- |
| January 2021 | Major O&G Company  | UAE |
Scope
As part of a line rerouting project, a safe, reliable and fast cold work solution was required due to the complexities of the hydrocarbon condensate running through the line with 2.5 mole % of H2S (no hot work permitted). ICR were approached for the installation of a 3" 300# Quickflange™ on that line. 
Cold line isolation and cold line cutting were performed successfully in conjunction with a 3rd party contractor and a localised hydro test for the Quickflange™ joint was completed successfully to the client's specified testing pressure. 
Significant HSE risks were a major consideration due to the line media and ensuring personnel working in the vicinity during project execution remained safe.
Solution
After thorough engineering evaluation ICR confirmed a 3" Sch40 Carbon Steel RF 300# installation could be installed by a specialist weldless connection technician. 
After client approval, a locally based ICR technician and respective equipment was immediately mobilised to site from our local base in UAE to safely install the 3" cold connection. In conjunction with a 3rd party contractor a hydro test was successfully completed post installation. 
Results & Benefits
100% Cold work installation process completed safely in less than 30 minutes by one certified local technician and one simple installation tool for that specific job
ICR were able to react quickly and mobilise the Quickflange™ equipment and the manpower from its local base in UAE 
This subsequently allowed the operator to bring operations back on-line in short period 
Safety, time, production & cost savings were identified as significant benefits when compared to the conventional method of hot work and welding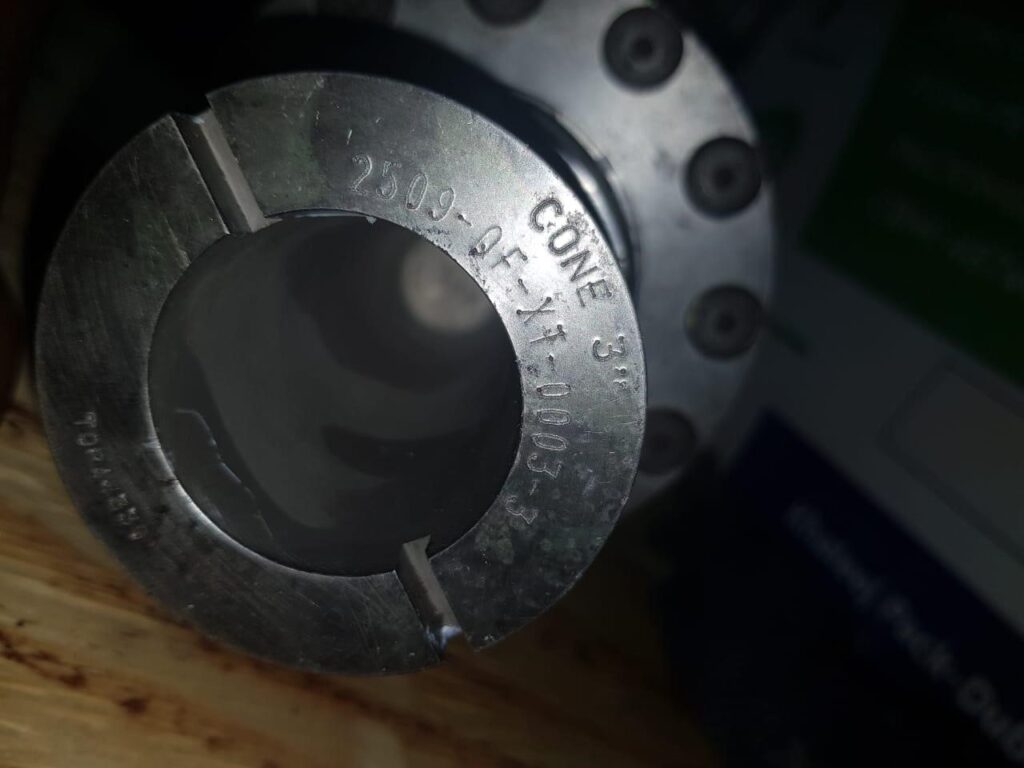 Client: Major Global Operator
Location: Gulf of Mexico
Scope
The Client wanted to use the Quickflange™ solution to complete an extension to a 12" hydrocarbon vent line on their installation in the Gulf of Mexico.
The scope involved the installation of a 12" schedule STD 150# RF A350LF2 CS Quickflange™ onto the vent line on the platform utilising ICR's patented Quickflange™ solution.
Solution
ICR had a qualified 12" schedule STD 150# A350LF2 CS solution within the Quickflange™ product range for the customer's application and had the Quickflange™ & Installation tooling available to mobilise.
The work site was situated at the top of the installation which made access to the site and the movement of the equipment to site awkward, this also meant that the available space at the worksite was limited.
Results & Benefits
ICR mobilised the 12" schedule STD Quickflange™ and installation tooling from its base in Houston to the delivery point in Louisiana
The ICR technician was mobilised to the platform to conduct the installation, working alongside platform personnel
Once permits and lift plans were in place the pipe was cut and prepped ready for the installation
The ICR technician was able to complete the installation within 1 shift and once the work site was made safe, was de-mobbed from the platform the following day
Scope delivered on time, within budget and with no incidents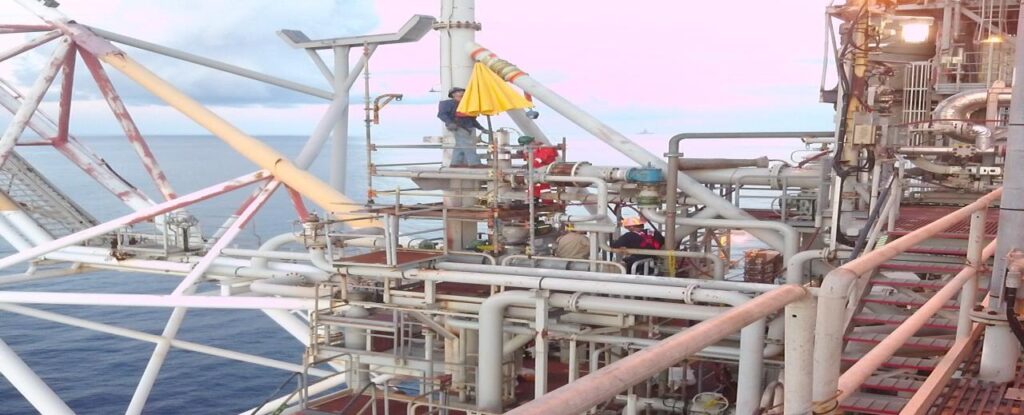 | Date | Client | Location |
| --- | --- | --- |
| May 2021 | BP | Idku, Egypt, West Nile Delta (WND) |
Scope
Due to the nature of the application and high risk associated with hot work, Quickflange™ was selected as an alternative cold work solution to carry out a tie-in for a replacement spool in an onshore refinery.
Solution
Following the award of the scope from the client, ICR developed a virtual/online training course to train Seaharvest's 2 technicians so they could carry out the repair. The client's maintenance crew cut the pipe at 11am, and by 12 noon Seaharvest technicians had the flange installed. By 3pm the flange and been hydrotested to 50bar, the crew had completed the scope and left the site.
Results & Benefits
Reduced down time
Limited footprint of manpower onsite
Large cost savings compared to the complex requirements that would have been involved with traditional hotwork with the potential for additional manpower, fire watch crews, welding habitats and NDT requirements
80% time saving