Date: March 2023
Client: TechnipFMC
Location: Dry Dock, North East England
Client challenge
Our team was commissioned by TechnipFMC – a global technology provider, during the final stages of a re-fit on one of their support and construction vessels. Our task was to provide a machining solution for both port and starboard aft thrusters. Upon inspection, it was discovered that the bores in the thruster mechanism had experienced operational wear and was out of tolerance, necessitating our intervention to machine out the bores. This enabled our client to install replacement sleeves, and our team carried out the final machining as per the specification.
What we did
Our team of expert machinists carefully assessed the condition of the thruster bores before devising a comprehensive solution to restore their functionality. Leveraging our cutting-edge technology, we employed our 150mm line boring, and 3m flange facing machines, to meticulously machine both the lower bores and upper faces of each thruster housing to the exact specifications and tolerance of 0.05mm. This precise and intricate machining work allowed us to successfully repair the damaged thrusters and ensure they functioned optimally, meeting the highest standards of quality and reliability.
Results
Thanks to our expert machining work and subsequent re-fit, the thruster housing will be able to operate for an additional 20+ years, without the need for cutting out the entire structure from the ship's hull and fabricating replacement housings. This successful outcome not only saved our client significant time and money, but also ensured that the vessel could continue to operate with optimal efficiency and safety. Our team's commitment to precision and excellence allowed us to deliver a long-lasting solution that exceeded our client's expectations and cemented our reputation as a trusted and reliable partner for machining services.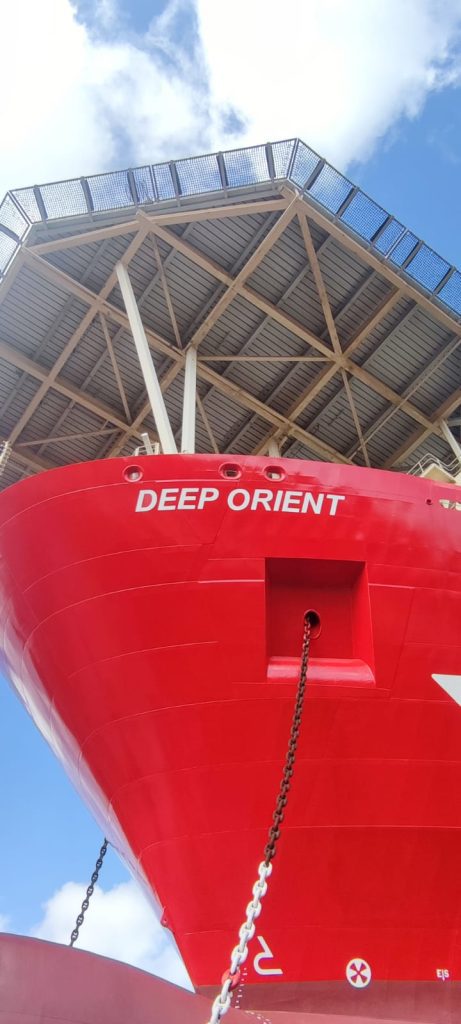 Scope
The power generation module contained three bearing pads welded to steel work and used to provide a level footprint for mounting the power generating unit within the module. The pads had been welded to the steelwork and were not level to either the module datum or each other. Surveying services had been used to provide flatness datums and material removal sizes for setting up the machining equipment. The machining equipment had to be able to span each plate and be clamped rather than welded to reduce requirement for hot work.
Solution
ICR technicians – together with a suitable size gantry mill – were mobilised to carry out this operation. The milling machine was set up to the survey datums and material was machined from the pads to bring them flat to the module datum and at the same level as each other.
Results & Benefits
Following the machining operation an additional survey was carried out which confirmed that the pads were well within the required tolerance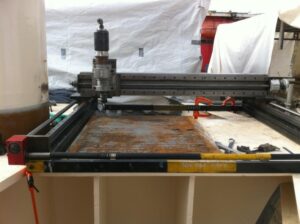 Scope
We were approached by a leading subsea contractor with regard to the machining of an auxiliary reel onboard an offshore vessel used for subsea pipe laying.
The auxiliary reel is used to provide pipe laying tension on smaller subsea pipes such as piggyback lines and umbilicals.
The 13m diameter auxiliary reel uses a pair of 22" diameter trunnions located within the bore of the reel to provide mounting support and a pivoting point.
On this application the trunnion locating bore had suffered considerable wear caused by weld failure resulting in the reel being placed out of action.
Solution
It was decided that the reel would be line bored to remove wear defects, machined to size and a replacement trunnion fitted to bring the reel back to service.
The work had to be scheduled for a period when the vessel was in port in Norway.
Due to the diameter and depth of machining required detailed pre engineering and machine adaption was required to ensure suitability. A 6" (150mm) diameter boring bar was required for this operation together with a hydraulic power pack to drive it and specially manufactured bearing mounts and support sections.
Two teams of Moss technicians were mobilised together with a hydraulically-driven line boring set up to provide 24 hour machining cover.
Results & Benefits
As well as the line boring operation ICR technicians were able to support the trunnion removal operation and drilling of holes in and assembly of the trunnion support ring.
"We are very pleased with the ICR personnel and equipment, please extend my thanks to all involved."
Client Feedback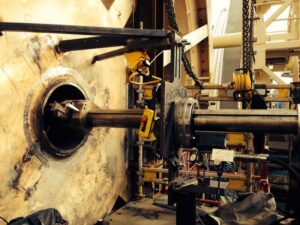 | Date | Client | Location |
| --- | --- | --- |
| April 2020 | Major Oil Refinery | North West England |
Scope
We were contracted at short notice to provide a large flange management team to support an emergent outage on a major UK refinery. ICR were required to supply fourteen bolting teams, all required equipment and an embedded management team for a six week planning, preparation and mechanical window. This was required to be on site seven days after call off to begin work. A full flange management package was requested by the customer to cover bolt ranges 7/8" up to 2 1/4" in a wide variety of joint sizes up to 120". These scopes included a number of 'special non standard joints'. Each job had individual job pack with required information to cover breakout and box-up with a suitable tagging operation.
Solution
Within five days we had sourced and mobilised all required manpower and equipment. Management were embedded into site and work packs were populated ready for day one of isolation operations. ICR supervision ensured that teams coming to site were brought on prior to work commencing to enable familiarisation of plant and scopes. All equipment was sited at key scopes to further increase efficiency once mechanical day one was started.
Results & Benefits
Multi-skilled technicians supplied enabling reactive machining scopes to be completed at site
Mobilisation at short notice of 16 additional machinists and equipment to site within one day of call off for a critical path emergent scope holding up the rebuild programme.
The scope was completed safely and ahead of schedule, working closely with the site's contracted welding team.
We worked to the client's required staggered shift requirements ensuring true 24hour coverage on critical path scopes.
Where required, our technicians worked alongside fitting teams to further assist in the shutdown programme.
The whole outage was completed safely, incident free and with a leak free start up.