25 October | 2021
Unmanned Technology Supporting the Zero Emissions Future
By Frankie Suarez, Business Manager, ICR's Sky-Futures™
As the industry looks towards a zero emissions future, technology will play a vital role in supporting this transition. At Sky-Futures™, we are proving how advancements in UAS (Unmanned Aircraft System) and sensor technology can support many sectors both on and offshore in the drive to achieve Net Zero Targets.
Our recent partnership with SeekOps Inc provides end-to-end asset level methane emissions quantification, including data capture, analysis and reporting. By utilising the SeekIR® sensor mounted to a UAS, the technology can provide methane Leak Detection and Quantification (LDAQ) of an impressive 1SCFH from 100m. The technology was originally designed by the co-founders of SeekOps for use by NASA on the Curiosity Rover sent to Mars and has now been adapted for utilisation in many other industries, with Sky-Futures™ being a global service delivery partner. The SeekOps training team have delivered bespoke training to our highly experienced Inspection Engineers and Remote Pilots. This has enabled Sky-Futures™ to deliver methane emission quantification operations on and offshore in recent months.
The agile and accurate technology allows operators to increase their health, safety and environmental performance in a very cost effective and efficient manner. The comprehensive emissions inspection service is also completed in a fraction of the time of traditional surveys. As discussions continue to guide further regulation in this area, especially in the oil and gas sector, operators are required to understand and mitigate methane emissions. By providing quantified, actionable data, operators will be able to find solutions or mitigations in an efficient manner, whilst also showing positive accountability to the regulators.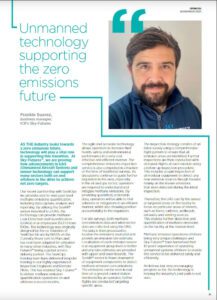 For site surveys, both methane concentration data and wind vector data are collected using the UAS. The data is then processed to localise the emissions source(s) and provide an emission rate estimate. Localisation of each emission source is at equipment group level or better and any rate estimates are provided with upper and lower bounds. The SeekIR® sensor is flown downwind of equipment components to detect methane emission concentrations. The emissions can be seen in real-time on a ground control station monitored by an operator, further flights are conducted targeting specific areas.
The inspection strategy consists of an initial survey using a comprehensive flight pattern to ensure that all emission areas are identified. Further inspections are then conducted with all repeat flights at each module using a follow-up inspection procedure. This includes a rapid inspection of all modular equipment to detect any new emission sources though focuses mainly on the known emissions that were detected during the initial inspection.
Thereafter, the UAS can fly the sensor at targeted zones on the facility to focus on particular areas of interest, such as flares, turbines, well heads, exhausts and venting sources. This enables further detection and quantification of methane emissions on the facility, at the module level.
Methane emission operations offshore bring very unique challenges and Sky-Futures™ have harnessed their 10 years' experience of operating unmanned systems offshore to enable this service to be delivered safely and efficiently.
Ambitious but very encouraging progress so far, the technology is helping the industry's joint path to Net Zero.
Read Frankie's article in the AGCC Business Bulletin (November, 2021) here