ICR Group has recorded its highest turnover since the business was launched in 2011 – with the Middle East playing a key role in the firm's success.
ICR, a technology-focused provider of specialist maintenance, inspection and integrity solutions across multiple sectors, has seen increased demand across its core energy sector operations, following the roll-out of an internationalisation strategy and diversification into other sectors.
The UK firm's turnover for its 2022-23 year-end was £41.7m, a 20% increase on its previous financial year. Headcount has increased globally by 15%, from 204 to 235, since May 2022, and the company expects to create around 50 jobs across its operations during the next phase of its strategy.
Jim Beveridge, Chief Executive Officer at ICR, said: "Our presence in the Middle East has been particularly noteworthy, with recent high-value projects completed in the United Arab Emirates, Qatar and Saudi Arabia. We have also solidified our presence in the region by appointing a new partner in Abu Dhabi.
"Our ongoing international expansion not only bolsters our long-term sustainability but also plays a vital role in creating meaningful and enduring employment opportunities, rightly positioning us as a contributor to the energy transition.
"The Middle East is a dynamic market, brimming with potential for innovative companies such as ICR. At ADIPEC, we are eager to foster deeper relationships with our partners and engage with organisations striving to achieve their net-zero objectives. With COP28 on the horizon, our industry must remain steadfast in its commitment to facilitating a just transition toward a lower-carbon future."
ICR's established technological solutions continue to play a significant part in its growth. Technowrap™ provides life-long repairs that can be applied to internal, external and through-wall defects on complex geometries, while INSONO™ is an innovative NDT (non-destructive testing) technique for the inspection of engineered composite repairs. The Technowrap repair system reduces emissions by 66% compared to the traditional replacement methods.
Quickflange™ offers cold work solutions with weldless, high-performance flange-to-pipe connections. It provides a permanent repair option for improving pipeline integrity and flow assurance, eliminating the need for welding or hot work. ICR's drone division, Sky-Futures™, has also secured further international work.
NAMA Development Enterprises is ICR Group's sponsor in Abu Dhabi, while its new execution partner in Abu Dhabi is APS.
ICR Group and NAMA Development Enterprises will be exhibiting at Stand 6210 at ADIPEC.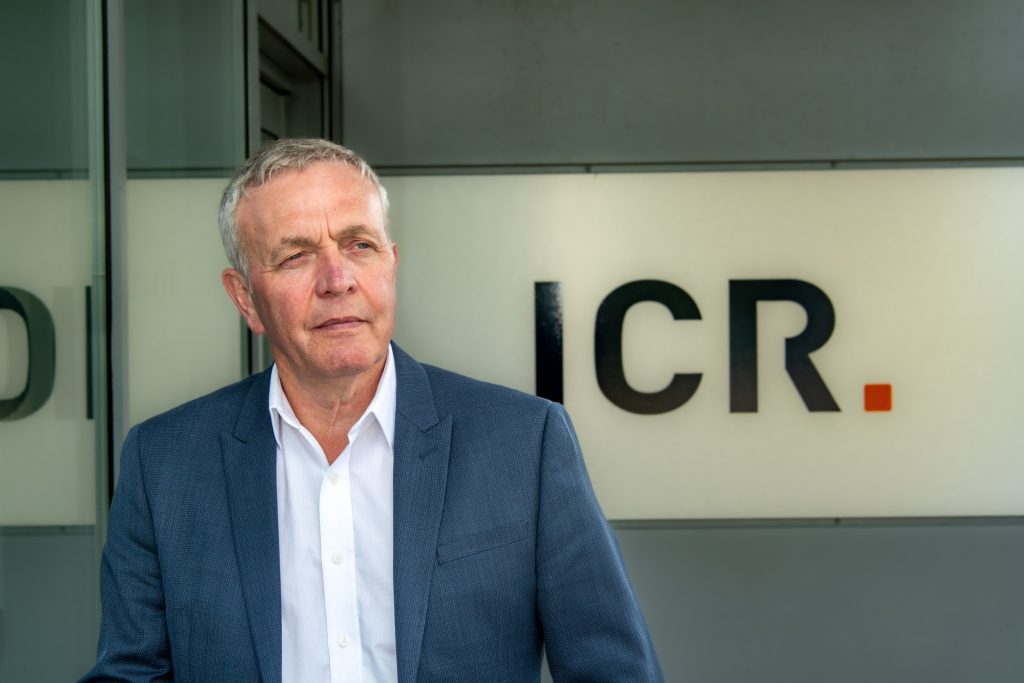 ICR Group is set to highlight its innovative technologies by contributing to a broader conversation on decarbonisation strategies at Offshore Europe.
Ross McHardy, Group Director at ICR, will be hosting a session entitled 'Small Steps for a Bigger Change: Decarbonisation Through Technology'. The event on Tuesday, September 5 (10am-11.15am) at Aberdeen's P&J Live will also feature other industry leaders.
This seminar is part of the Collaboration Zone, an initiative organised by the Energy Industries Council (EIC). Running throughout the week, the programme offers an avenue for speakers and attendees to exchange knowledge, explore smarter operational methods and present valuable insights gained from past experiences.
In addition's, ICR's innovations will be showcased at the same venue on Wednesday, September 6 (10am-10.30am) during a dedicated Technology Spotlight Session. This EIC event, hosted by Josh Cannell, Interim Head of Sales – Quickflange™, and Calum Macnaughton, Inspection and Integrity Engineer at ICR, will put the focus on Quickflange™ and INSONO™. Day 2 of the EIC Collaboration Zone – Navigating Net Zero – is sponsored by ICR.

Ross said: "Offshore Europe serves as an excellent platform to engage with the industry and share best practice and innovative ideas. Decarbonisation stands as a pivotal element in ICR's strategy for fostering sustainable growth and both these EIC events provide a first-rate opportunity to highlight our ethos and smart technology."
ICR's Quickflange™, a weldless connector solution, offers an alternative for cold work applications, particularly for high-performance flange-to-pipe connections. This technology facilitates permanent repairs, enhancing pipeline integrity and ensuring fluid flow, all without the need for welding or hot work. With its wide range of applications, Quickflange™ has proven to be both cost-effective and efficient, reducing repair times by up to 80% compared to traditional methods. Remarkably, it also contributes to a 57% reduction in greenhouse gas emissions when contrasted with conventional welding practices.
INSONO™ is an innovative NDT (non-destructive testing) technique for the inspection of engineered composite repairs. It is a solution that allows for the extension of defined life repairs, reducing waste while avoiding high-carbon emissions from traditional steel replacement alternatives. INSONO™ complements ICR's Technowrap™ range and provides operators with the assurance their composite repairs are fit for purpose and satisfy regulatory body guidelines on inspection criteria.
Technowrap™, a lifelong repair system, boasts the capability to address internal, external, and through-wall defects, even when dealing with complex geometries. This innovative solution has demonstrated a remarkable 66% reduction in emissions when compared to conventional replacement methods.
In his capacity as Group Director, Ross oversees the ICR repair division, which encompasses Technowrap™, Quickflange™, mechanical services and leak sealing business lines. He holds a BEng in Civil Engineering and an MSc in Offshore Engineering and is a chartered structural engineer. With 30 years of industry experience, he has held senior positions in various companies, including TAQA, EnQuest, and EnerMech.
Offshore Europe is celebrating its 50th anniversary. For more information about the conference & exhibition, please visit https://www.offshore-europe.co.uk/en-gb.html
We had a brilliant day joining cold work specialists DIFLICOM at the launch of their new facility in The Netherlands! We thoroughly enjoyed presenting Quickflange™ technology along with carrying out multiple live 8" demo installations.
It was great to meet so many of our existing and new customers with over 30 representatives attending from different companies. Feedback was very positive and, since the event, we have received further enquiries and have hosted further demo days.
For more information on our Quickflange™ capabilities, contact Josh CannellMaurice van der Woude or Lindsay Anderson
Steve Jennings | Britney Houvet | Lindsay Anderson | Josh Cannell | Jamie Ironside | Phil Paterson
#ICR #Diflicom #Quickflange #WeldlessConnectors #AssetIntegrity #NoHotWork
ICR has been awarded a long-term hire contract with TAQA Bratani Limited (TAQA), for the provision of its Quickflange™ weldless connections for TAQA's UK-based operations. The contract is for two years with a two-year extension option.
Lindsay Anderson, Head of Sales – Quickflange™ at ICR, said:
"We are delighted to secure this contract with TAQA, who we have been working with for almost 10 years. Quickflange™ offers clients permanent repair options minimising downtime or the need for hot work permits, making it a cost effective and efficient way of performing repairs. The technology has a long-standing track record, particularly in the North Sea & Norway sectors, but we are now seeing a growing demand for solutions onshore, out with the traditional oil and gas sector as well as our international locations throughout the globe."
For almost 20 years, ICR's patented Quickflange™ technology has built up a proven track record as a leading provider in cold work solutions, offering clients permanent repair options for improving pipeline integrity and flow assurance whilst eliminating the need for welding or hot work with zero emissions generated. With an extensive range, Quickflange™ is a safe, cost-effective and efficient solution generating an 80% time saving over traditional welding – enabling the technology to be used as an emergency solution or for any planned maintenance and repair work.